The Green Dragon and I had planned to have a cookout on Labor Day. As the clock ticked down, she changed her mind and instead said she didn't want to celebrate the end of summer, but instead wanted to do something "summery" to prolong our favorite season.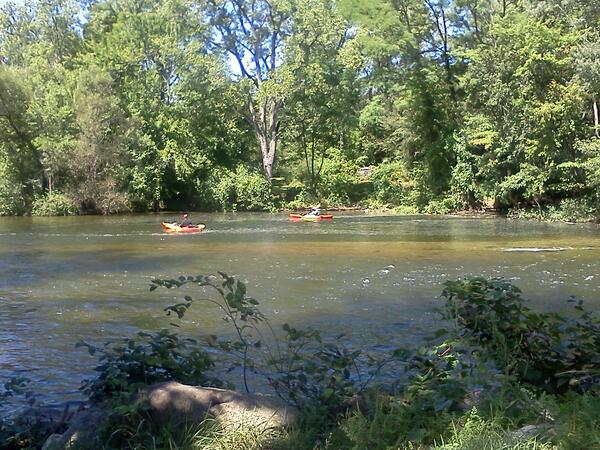 So we decided to "freestyle" it with a trip to Michigan. I pulled out some brochures and identified Hudson Mills Metro Park as a nice location for some hiking and a picnic.
We set off on our adventure with friends Gary and Kelly. I had broken our GPS earlier in the week when it slipped out of my hands in the garage, so we had to navigate old school – using maps!
Pulling into the Metro Park, I noticed they had a disc golf course and in a touch of serendipity, my disc golf bag was in the trunk. The four of us launched into an impromptu round of golf. We played the first four holes of the "old" course before somehow ending up on the "Monster" course where the holes are designated alphabetically. We made some great shots (but the majority were off in the weeds) before heading for a picnic.
We found a great picnic location next to the rapids of the Huron River. I was delighted to learn that Gary, unawares of park policies, had thoughtfully packed some Molson Golden to go with our lunch. One kayaker provided great entertainment by capsizing at least four times and in one episode all his beer cans started floating downriver.
My next idea was to visit the Dexter Cider Mill. This was a bust. There was a mill, they make cider, but there was no "there" there. Green Dragon quickly demanded we head to a winery.
We shot west on I-94 and first stopped at Lone Oak Vineyard Estate, where owner Denise Barber welcomed us and we soon settled in for a tasting.
The top wines were:
2008 Vin du Roi – An estate Bordeaux blend finished unoaked for a fruit forward taste.
2009 Merlot – A product of a cool vintage, this estate wine is finished in an off-dry style.
Chardonnel – A hybrid grape, this was refreshing and crisp.
Checking the clock, we saw there was time to motor to Sandhill Crane Vineyards, another popular stop on the Pioneer Wine Trail. The winery has expanded since our last visit, adding an outstanding café. The smells were tempting and the menu looks heavenly.
We had a chance to chat with winemaker Holly Balansag and thank her for producing an extensive lineup of quality wines. Our top picks were:
2011 Proprietor's Reserve Traminette – Citrus flavors with toastiness that rocks. Estate grown. Limited release.
2011 Sur Lie Chardonnay – Well balanced wine with soft buttery oak and creamy texture.
2012 Vignoles – Holly tuned us into this. It explodes with an orchard of flavor including peach and lime. It's bone dry but is full and rich.
2010 Proprietor's Reserve Chancellor – Sandhill does Chancellor perhaps better than anyone. This wine is rich with smooth black currant and red berries. My favorite.
Abrazo – A red blend that benefits the local Human Society and has a picture of Rusty the rescue dog also won the hearts of our tasters.
Did we succeed in extending summer? We did at least for a day – enjoying the sunshine, great weather and fine wine from Michigan.